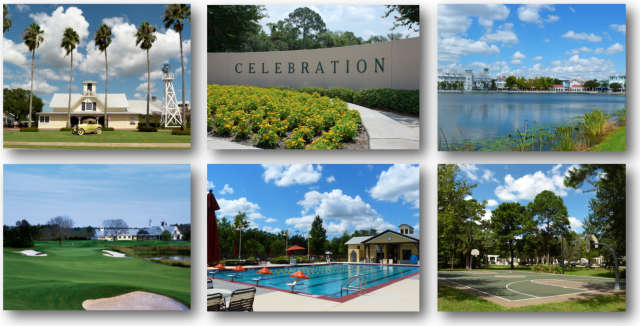 Celebration is not a Town, but a Community whose foundation is based on five cornerstones: Health, Education, Technology, Sense of Community and Sense of Place.
Celebration Village, West Village and Lake Evalyn were Celebration's first phase of development, with a total of approximately 500 home sites, including 76 townhomes, and nearly 700 condominiums.

The second phase of residential development was North Village, with more than 300 homes sites and 300 condominiums, followed by South Village with over 600 home sites and townhomes and nearly 500 condominiums.

Phase four was East Village and Aquila Reserve with a combined 500 homes and townhomes and 70 condominiums. Artisan Park, Celebration's last residential phase to date, is a 160-acre village built by St. Joe Company and contains more than 600 homes and condominiums

Key Facts about Celebration:
The homes and condominiums are a cross-pollination of Classical, Colonial, French, Coastal, Mediterranean, and Victorian exteriors with modern floor plans. Most homes have a welcoming front porch and access to rear garages via a service alley.
Masterplan community situated in northwest Osceola County, Florida
Residential offerings include single family terrace, bungalow, garden, cottage, village, manor and estate homes along with townhomes and condominiums.
Residents enjoy 5 large recreational areas with multiple amenities, a Community Center, over 40 neighborhood parks and more than 26 miles of walking trails.
Commercial areas include Downtown Celebration and Water Tower Shoppes with multiple restaurants and shops. Within the Community's boundaries residents benefit from schools (Celebration K-8, Celebration High School, Stetson University Extension), Osceola County Fire Station, office complexes, a boutique hotel, gas station, churches and Celebration Health Hospital and Fitness Centre.
Celebration has approximately 9,000 residents and 4,060 homes and condos.
Downtown Orlando is 30 minutes northeast, and Orlando International Airport is 20 minutes east.
For more information about Celebration, please contact me directly by phone: 407-468-9538 or email me.